[Pre-sale information] Bungu Joshi Haku (Stationery Girls Expo) in Osaka 2023
New release
Customized Thread Bound Notebook "EggnWorks Sewing"
Choose the parts and make your original threaded notebook!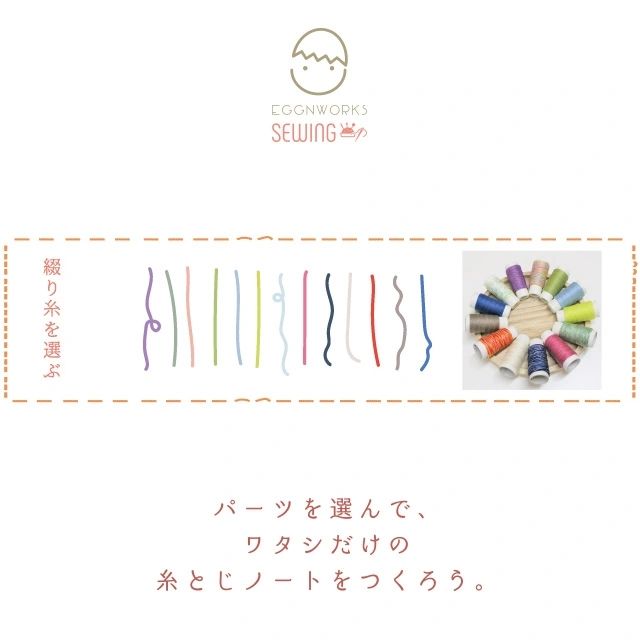 "EggnWorks Sewing" is a bookbinding kit made by selecting 3 parts: "Cover", "Writing Paper" and "Binding Thread".
"Cover" is from EggnWorks original notebook
Oblivion, azure mermaid, mushuroom, shadow, Rock Eagle Owl & European smoketree, color, tulip, nature
Please choose 1 from 8 types.
"Writing paper" are ruled lines, squares, plain
Choose your favorite one from the three types according to the purpose ♪
Free combination! Multiple selection OK!
Please select the "binding thread" from the following 16 types.
color image
Brown, lemon yellow, blue, light blue, pink, off-white, green, lotus field, mugwort bread, multi-color (red/pink/orange), multi-color (yellow/pink/light blue), blue gradation, kasuri pattern mint, 2 Color kasuri, 8 color kasuri, dark blue
384 ways of customization are possible.
Why don't you make your own original notebook?
We will be waiting for samples on Bungu Joshi Haku (Stationery Girls Expo) in Osaka 2023, so please check them out at the venue.
☆ Bungu Joshi Haku (Stationery Girls Expo) in Osaka 2023
Venue: Osaka Nanko ATC Hall
*Entrance ticket is required.
Click here for details☟.
https://bungujoshi.com/event/osaka2023/
☆To view and apply your artwork, go to "EggsWorks Museum".
☆ The following three types of public offerings are currently being held.
[EggnWorks x Tombow Pencil] Monograph Ballpoint Pen Body & Package Design
[EggnWorks × Kuretake] Real Brush 6 Color Set Package Design
[EggnWorks] Notebook cover design
Click here for details☟
https://tagstationery.kyoto/index.php/eggnworks/callforentry/
We are looking forward to your applications ♪